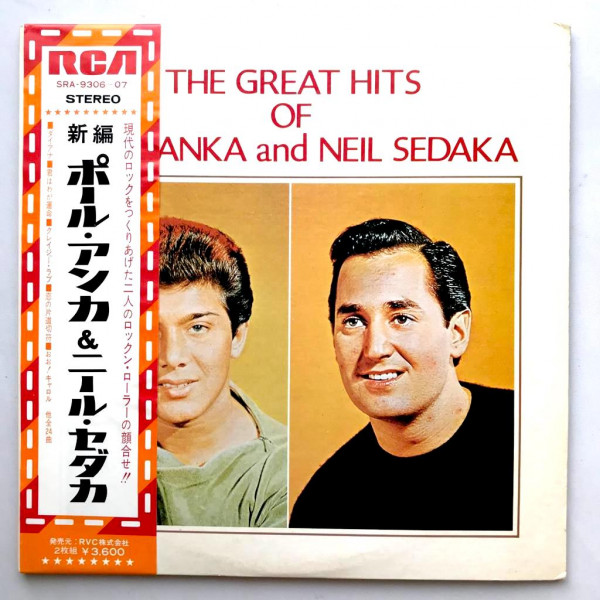  
Paul Anka & Neil Sedaka - The Great Hits Of - 2 LP Vinyl PH
Goldmine Grade, worst to best (item grade in CAPITAL):
VINYL: poor, fair, good, good plus, very good, very good plus, (NEAR MINT), mint
SLEEVE: poor, fair, good, good plus, very good, (VERY GOOD PLUS), near mint, mint

Paul Anka, Neil Sedaka – The Great Hits Of Paul Anka and Neil Sedaka

Label: RCA – SRA-9306/7
Format: 2 x Vinyl, LP, Compilation, Stereo
Country: Japan
Genre: Rock, Pop
Style: Rock & Roll

A1 Paul Anka– Diana 2:19
A2 Paul Anka– You Are My Destiny 2:26
A3 Paul Anka– Lonely Boy 2:26
A4 Paul Anka– Time To Cry 2:27
A5 Paul Anka– Every Night 2:19
A6 Paul Anka– Ogni Volta 2:21
B1 Paul Anka– Crazy Love 2:26
B2 Paul Anka– My Home Town 2:05
B3 Paul Anka– Put Your Head On My Shoulder 2:32
B4 Paul Anka– Cinderella 2:02
B5 Paul Anka– Crying In The Wind 2:22
B6 Paul Anka– The Longest Day 2:02
C1 Neil Sedaka– One Way Ticket (To The Blues) 2:21
C2 Neil Sedaka– The Diary 2:15
C3 Neil Sedaka– Happy Birthday, Sweet Sixteen 2:37
C4 Neil Sedaka– Next Door To An Angel 2:25
C5 Neil Sedaka– Stupid Cupid 2:33
C6 Neil Sedaka– Breaking Up Is Hard To Do 2:18
D1 Neil Sedaka– Oh! Carol 2:15
D2 Neil Sedaka– Calendar Girl 2:37
D3 Neil Sedaka– Little Devil 2:43
D4 Neil Sedaka– Going Home To Mary Lou 2:02
D5 Neil Sedaka– King Of Clowns 2:43
D6 Neil Sedaka– Stairway To Heaven 2:40

Early 70s Pressing.
2LP set, Coating Gatefold Cover With Obi.