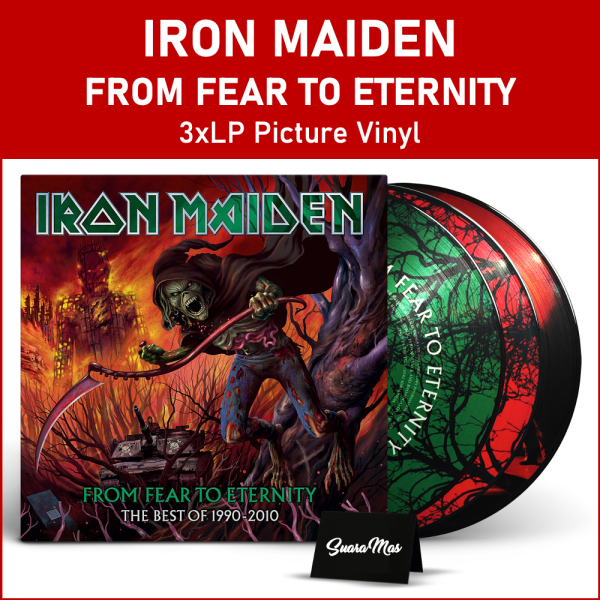  
Iron Maiden - From Fear To Eternity - The Best Of 1990-2010 - 3 LP Vinyl PH
BRAND NEW SEALED
Iron Maiden ‎– From Fear To Eternity - The Best Of 1990-2010
Label: EMI ‎– 50999 0273651 8
Format: 3 × Vinyl, LP, Compilation, Limited Edition, Picture Disc
Country: Europe
Genre: Rock
Style: Heavy Metal
Tracklist:
A1 The Wicker Man
A2 Holy Smoke
A3 El Dorado
A4 Paschendale
B1 Different World
B2 Man On The Edge*
B3 The Reincarnation Of Benjamin Breeg
B4 Blood Brothers
B5 Rainmaker
C1 Sign Of The Cross*
C2 Brave New World
C3 Fear Of The Dark*
C4 Be Quick Or Be Dead
D1 Tailgunner
D2 No More Lies
D3 Coming Home
D4 The Clansman*
E1 For The Greater Good Of God
E2 These Colours Don't Run
E3 Bring Your Daughter... To The Slaughter
F1 Afraid To Shoot Strangers
F2 Dance Of Death
F3 When The Wild Wind Blows
*Denotes live recordings. "Sign of the Cross," "Fear of the Dark" and "The Clansman" were recorded at Rock in Rio in Brazil on 19 January, 2001. "Man On The Edge" was recorded at Fila Forum, Milan on 23 September, 1999 during the Ed Hunter Tour.
Released in a 6-panel gatefold sleeve with lyrics and credits.
Barcode (Scanned): 5099902736518
Barcode (Text): 5 099902 736518
Barcode (Sticker): 50999 0273651 8