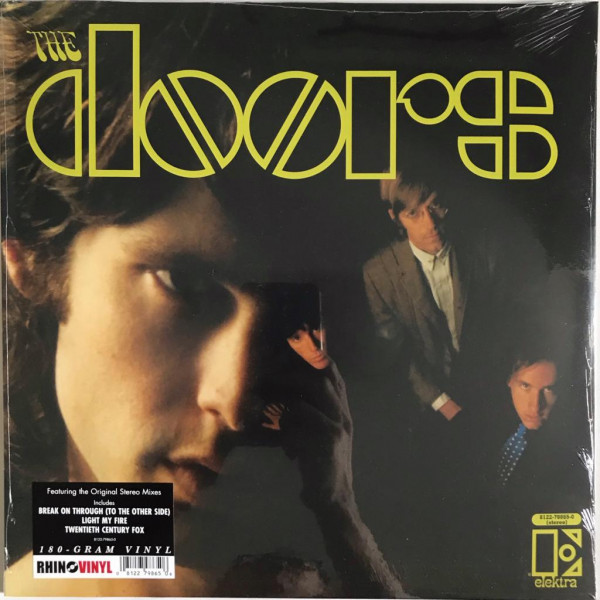  
Doors, The - LP Vinyl Piringan Hitam PH 180 Gram
LP/VINY: MINT
SLEEVE: MINT, SEALED 
The Doors ‎– The Doors
Label: Elektra ‎– 8122-79865-0, Rhino Vinyl ‎– 8122-79865-0
Format: Vinyl, LP, Album, Reissue, Stereo, 180 Gram
Country: Europe
Released: 14 Sep 2009
Genre: Rock
Style: Psychedelic Rock, Blues Rock
Tracklist:
A1 Break On Through (To The Other Side)
A2 Soul Kitchen
A3 The Crystal Ship
A4 Twentieth Century Fox
A5 Alabama Song (Whisky Bar)
A6 Light My Fire
B1 Back Door Man
B2 I Looked At You
B3 End Of The Night
B4 Take It As It Comes
B5 The End
On sticker:
"Featuring the Original Stereo Mixes
Includes
BREAK ON THROUGH (TO THE OTHER SIDE)
LIGHT MY FIRE
TWENTIETH CENTURY FOX
8122-79865-0
180-GRAM VINYL"
Manufactured in the E.U.
From the Rhino Records website: "The 12" reissue on 180-gram HQ virgin vinyl presents the original stereo mixes, artwork and inner sleeves. The laquers were cut at Bernie Grundman Mastering in Hollywood, CA under the direct supervision of original Doors producer/engineer Bruce Botnick and Electra Records founder Jac Holzman."
Barcode (Print): 0 8122 79865 0 6
Barcode (Scan): 081227986506
Label Code: LC02982