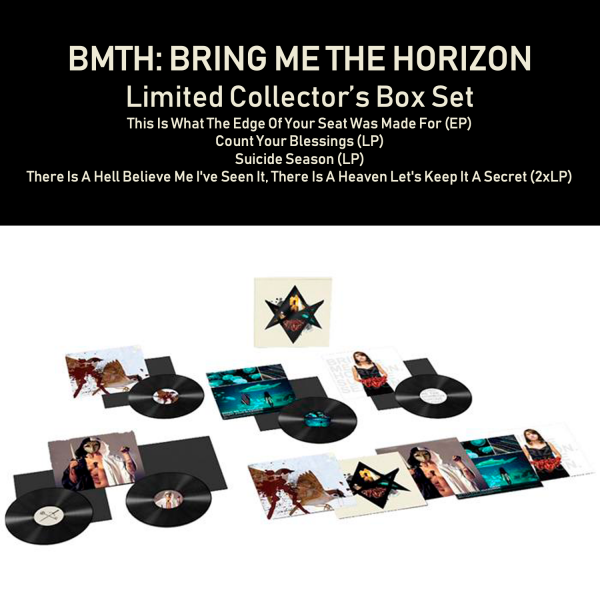  
BMTH - Bring Me The Horizon - Limited Box Set - 5 Vinyl PH
BRAND NEW SEALED
LIMITED BOX SET
Bring Me The Horizon ‎– Limited Box Set
Label: BMG ‎– 53800283 0
Format: Box Set, Compilation, Limited Edition
Vinyl, 12"", EP
Vinyl, LP, Album
Vinyl, LP, Album
2 × Vinyl, LP, Album
Country: UK
Released: 24 Nov 2014
Genre: Rock
Style: Metalcore, Deathcore
Tracklist:
This Is What The Edge Of Your Seat Was Made For
A1 RE: They Have No Reflections 5:42
A2 Who Wants Flowers When You're Dead? Nobody 4:54
B1 Rawwwrr! 4:14
B2 Traitors Never Play Hang-man. 3:37
Count Your Blessings
A1 Pray For Plagues 4:22
A2 Tell Slater Not To Wash His Dick 3:30
A3 Braille (For Stevie Wonder's Eyes Only) 4:30
A4 A Lot Like Vegas 2:10
A5 Black & Blue 4:34
B1 Slow Dance 1:16
B2 Liquor & Love Lost 2:39
B3 (I Used To Make Out With) Medusa 5:39
B4 Fifteen Fathoms, Counting 1:57
B5 Off The Heezay 5:39
Suicide Season
A1 The Comedown 4:09
A2 Chelsea Smile 5:03
A3 It Was Written In Blood 4:03
A4 Death Breath 4:21
A5 Football Season Is Over 1:56
B1 Sleep With One Eye Open 4:16
B2 Diamonds Aren't Forever 3:48
B3 The Sadness Will Never End 5:22
B4 No Need For Introductions, I've Read About Girls Like You On The Backs Of Toilet Doors 1:00
B5 Suicide Season 8:17
There Is A Hell Believe Me I've Seen It, There Is A Heaven Let's Keep It A Secret
A1 Crucify Me 6:20
A2 Anthem 4:50
A3 It Never Ends 4:34
B1 Fuck 4:55
B2 Don't Go 4:58
B3 Home Sweet Hole 4:38
C1 Alligator Blood 4:32
C2 Visions 4:09
C3 Blacklist 4:00
D1 Memorial 3:10
D2 Blessed With A Curse 5:08
D3 The Fox And The Wolf 1:43
Box set consisting of 1 EP and 3 studio albums contained in a rigid card slipcase, with art prints - one for each album front cover and one for the box-set cover, designed by Oli Sykes.
Barcode: 4 050538 002836