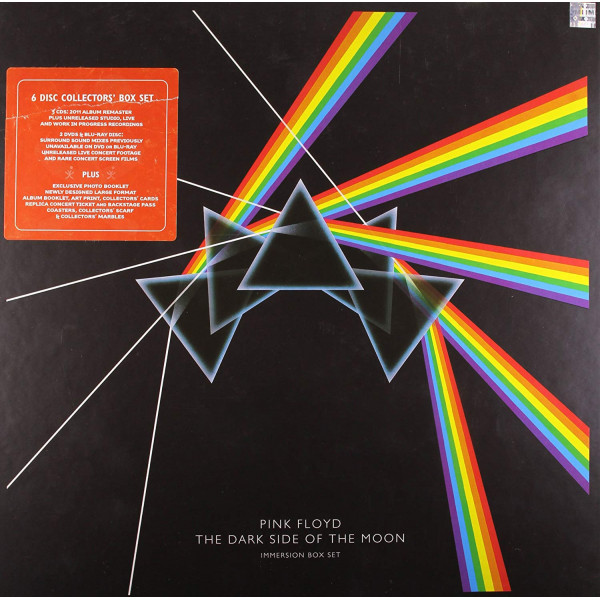  
Pink Floyd - The Dark Side of The Moon - Immersion Edition
Immersion Editions present the complete artistic experience.  Lavishly packaged in a sturdy 29cm square box, the sets contain remastered, previously unreleased and audio-visual material, plus much additional content – reproduced memorabilia, brand new graphics, art prints, collectors' items, lavish booklets and more.
Product description:
Originally released in 1973, The Dark Side of The Moon became Pink Floyd's first number 1 album in the US, remaining on the chart for 741 weeks between 1973 and 1988. One of the best-selling and most critically acclaimed albums of all time The Dark Side of The Moon also introduced The iconic album cover artwork by Hipgnosis featuring  a prism representing the band's stage lighting, the record's lyrics, and the request for a 'simple and bold' design. The Immersion version features the classic Studio album digitally remastered and presented as a limited edition high quality boxset featuring 6 discs of rare and unreleased audio and video material, plus a new 40 page oversized perfect-bound booklet, a book of original photographs edited by Jill Furmanovsky, exclusive merchandise and facsimile collectables.
DISC 1 – CD 1:
The Dark Side Of The Moon digitally remastered by James Guthrie 2011
DISC 2 – CD 2:
The Dark Side Of The Moon performed live at Wembley in 1974 (2011 Mix and previously unreleased)
DISC 3 – DVD 1, ALL AUDIO:
- The Dark Side Of The Moon, James Guthrie 2003 5.1 Surround Mix (previously released only on SACD) in standard resolution audio at 448 kbps
- The Dark Side Of The Moon, James Guthrie 2003 5.1 Surround Mix (previously released only on SACD) in high resolution audio at 640 kbps
- The Dark Side Of The Moon, LPCM Stereo mix (as disc 1)
- The Dark Side Of The Moon, Alan Parsons Quad Mix (previously released only on vinyl LP/8 track tape in 1973) in standard resolution audio at 448 kbps
- The Dark Side Of The Moon, Alan Parsons Quad Mix (previously released only on vinyl LP/8 track tape in 1973) in high resolution audio at 640 kbps
DISC 4 - DVD 2, ALL AUDIO VISUAL:         
-Live In Brighton 1972:
Careful With That Axe, Eugene (previously unreleased on DVD)
Set The Controls For The Heart Of The Sun (previously unreleased on DVD)
-The Dark Side Of The Moon, 2003 documentary (25 min EPK)
-Concert Screen Films (60 min total):
                British Tour 1974
                French Tour 1974
                North American Tour 1975
Screen films play in stereo and 5.1 Surround Sound        
DISC 5 – BLURAY, AUDIO+AUDIO VISUAL            
-AUDIO: The Dark Side Of The Moon, James Guthrie 2003 5.1 Surround Mix (previously released only on SACD) in high resolution audio at 96 kHz/24-bit
-AUDIO: The Dark Side Of The Moon, Original stereo mix (1973) mastered in high resolution audio at 96 kHz/24-bit
-AUDIO VISUAL: Live In Brighton 1972:
Careful With That Axe, Eugene (previously unreleased on DVD/BluRay)
Set The Controls For The Heart Of The Sun (previously unreleased on DVD/BluRay)
-AUDIO VISUAL: The Dark Side Of The Moon, 2003 documentary (EPK)
-AUDIO VISUAL: Concert Screen Films (5.1 Surround Mix):
                British Tour 1974
                French Tour 1974
                North American Tour 1975          
-AUDIO VISUAL: Concert Screen Films (High Resolution Stereo Mix):
                British Tour 1974
                French Tour 1974
                North American Tour 1975          
DISC 6  - CD3:
-The Dark Side Of The Moon 1972 Early Album Mix engineered by Alan Parsons (previously unreleased)
- The Hard Way (from 'Household Objects' project)
- Us And Them, Richard Wright Demo (previously unreleased)
- The Travel Sequence, live from Brighton June 1972 (previously unreleased)
- The Mortality Sequence, live from Brighton June 1972 (previously unreleased)
- Any Colour You Like, live from Brighton June 1972 (previously unreleased)
- The Travel Sequence, studio recording 1972 (previously unreleased)
- Money, Roger Waters' demo (previously unreleased)
40 page 27cm x 27cm booklet designed by Storm Thorgerson
Exclusive photo book edited by Jill Furmanovsky
27cm x 27cm Exclusive Storm Thorgerson Art Print
5 x Collectors' Cards featuring art and comments by Storm Thorgerson
Replica of The Dark Side Of The Moon Tour Ticket
Replica of The Dark Side Of The Moon Backstage Pass
Scarf
3 x Black marbles
9 x Coasters (unique to this box) featuring early Storm Thorgerson design sketches
12 page credits booklet